Our Christmas Saturday Camps are in the books! We had so much fun these past two weekends cooking and crafting with our friends! I can't wait to tell you all about it, so I'll start with our Arctic Affair Saturday Camp, held December 9th.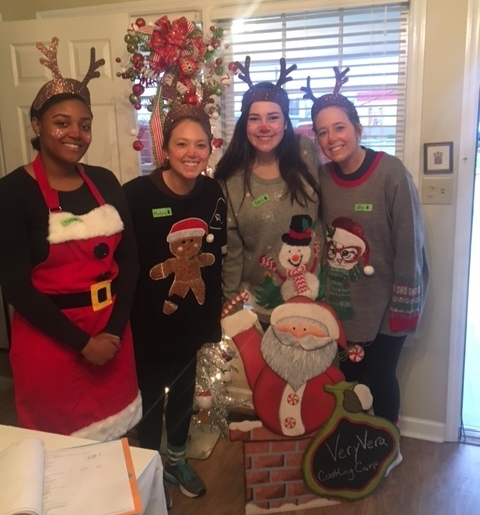 In the kitchen, we made chocolate cookies that we decorated to look like melted snowmen, using Reese's Peanut Butter Cups as hats. The campers enjoyed squishing orange candies to make the poor snowman's nose!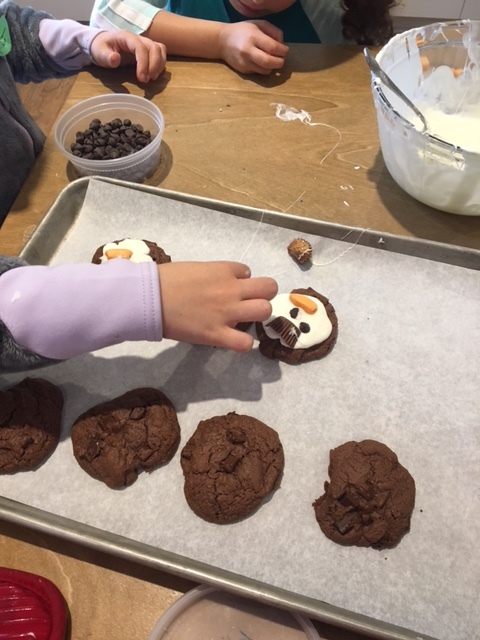 We put sugar cookies in the food processor and used our hands to mix in cream cheese to form sweet little sugar cookie truffles. Once those were dipped in melted white almond bark, we called them "Snowballs" and topped them off with blue sprinkles.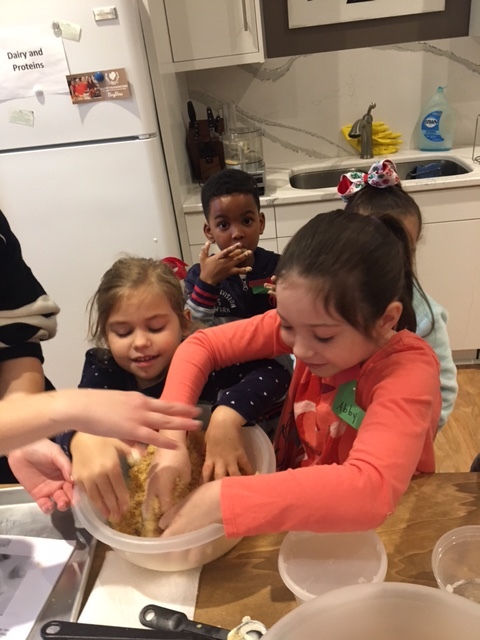 Don't worry, he already made his snowballs…
Some super fudgy brownies were next on the menu, but we added a Christmas twist! We baked them up in a deep dish pie pan and cut them into wedges. Red M&Ms candies took a starring role as Rudolph's nose, and pretzel twists were the antlers! Everyone found that the pretzels don't break perfectly in half, which means each set of antlers is unique! If you want to try this brownie recipe for yourself, click here!
In the craft room our campers made slime, a crowd favorite that will last all season! They also decorated a wooden snowman that their families will display for years to come. The snowman was created by stamping a face onto a piece of wood, and using a sock for a hat! This craft was super fun, and can be done on a budget by using reclaimed wood if you want to build a whole family of snowmen for your coffee table.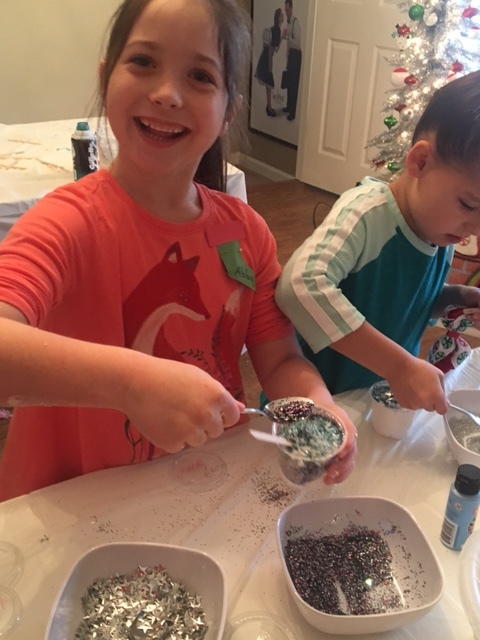 Our Saturday camp held on December 16th had a "Christmas Around the World" theme, so each recipe and craft was representative of a different country. For example, Poinsettias are native to Mexico and one of our crafts was making a beautiful garland made of paper pinwheel poinsettias. We told the campers about the different backgrounds of each craft and recipe while they were working on their morning work, so we had lots to talk about during each activity. Here's a rundown of what we did!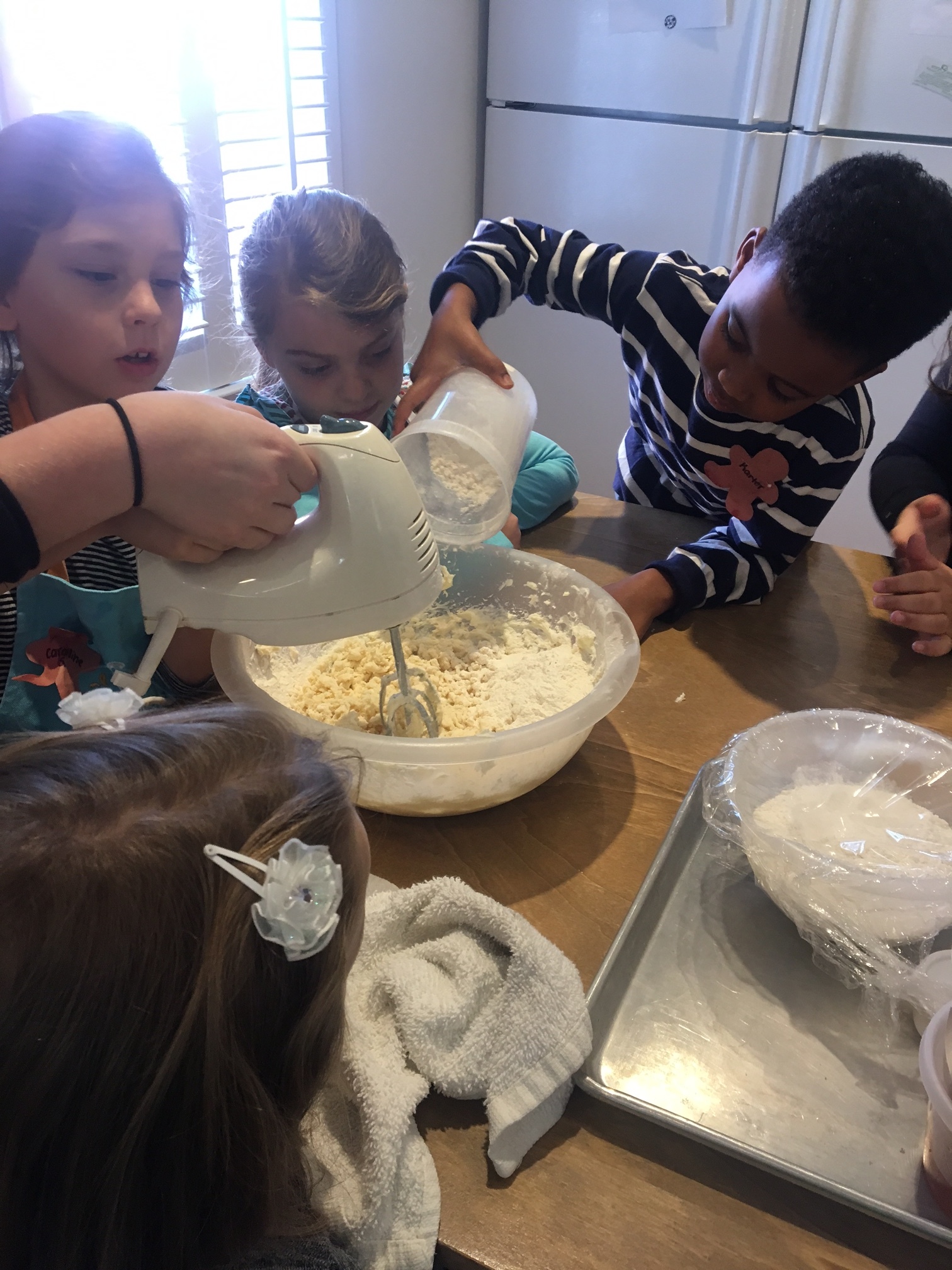 In the kitchen we made Brazilian Brigadieros, which are really yummy chocolate caramel candies that get rolled into balls and coated in chocolate sprinkles. Then we moved on to Kolache cookies, a variation of a recipe from the Czech Republic that get filled with jam and dusted with powdered sugar. Some of the campers thought this cookie tasted like biscuits with jelly! Our last recipe was a candy cane cookie ball. This used chocolate sandwich cookies and cream cheese, but a peppermint twist was added by using flavored coffee creamer and forming the cookie ball around a Candy Cane Hershey's Kiss. Many of the campers already knew the history of the candy cane, and it was fun to hear them tell the story of the German peppermint stick. To top it all off, we decorated some sugar cookies to have with lunch, because Christmas isn't complete without tons of cookie icing!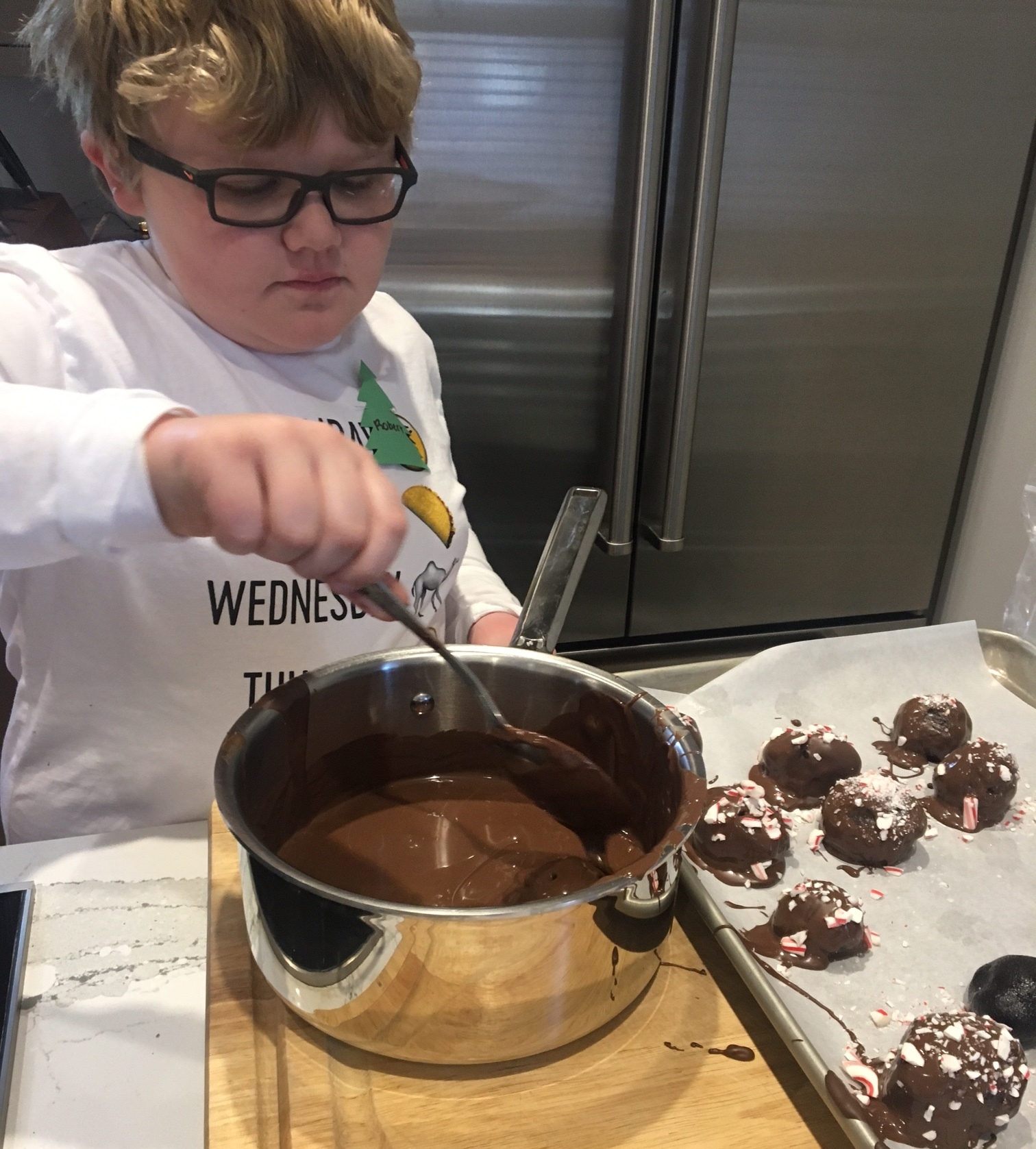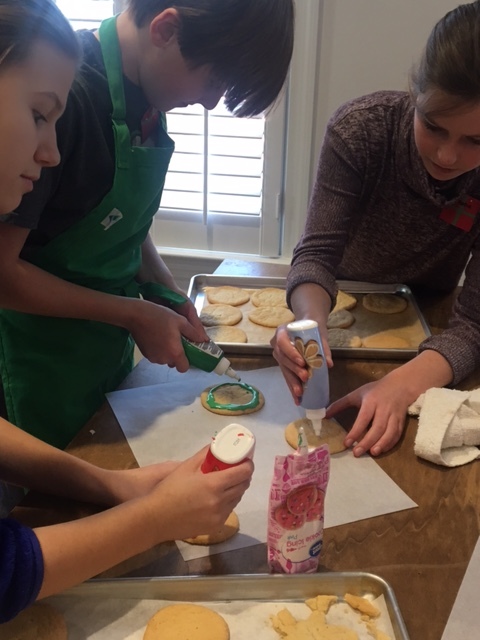 In the craft room we made the Poinsettia pinwheel garland and a ribbon and ricrac Christmas tree canvas to add to each camp family's holiday decor. Did you know that some historians believe that Germany started the tradition of Christmas trees as we know them? Our Christmas tree canvases were a little less traditional, with different lengths of ribbon being glued to a canvas board to form a tree shape. We left the outside edges of the canvas blank so that campers could customize the craft at home. Some suggestions were to use ricrac as a border, or have a parent with need handwriting write a holiday message. You can hang this craft on a mirror, a door, or even use it on a mantel with a plate stand.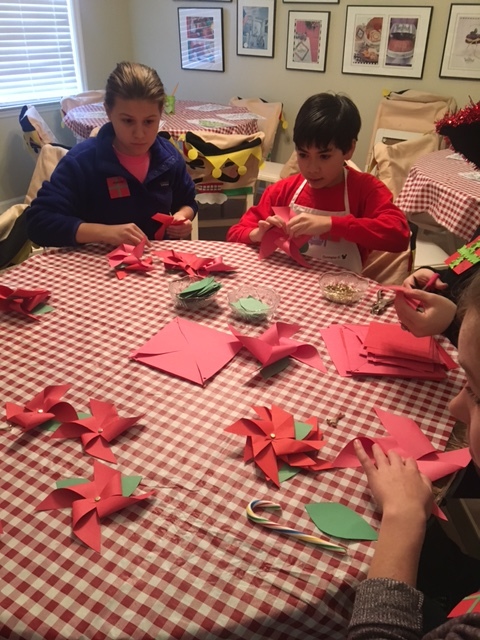 The decor for this camp was all DIY–simple gingerbread cottage-inspired garland and a larger-than-life arch made of gifts. For the garland, I just wrapped toilet tissue rolls in wrapping paper and cellophane to make them look like hard candies. Those were then threaded on a length of twine and strung on the bannister. The gift arch started out with a collection of empty cardboard boxes that we wrapped to look like Christmas gifts. We then stacked the gifts and supported them with wooden dowels to create an entryway that WOWS! I love the look of over-the-top decor, but I don't always like the price tag, so I try to come up with DIY ways to have great decorations without breaking the bank. For this decor, I bought a few inexpensive rolls of wrapping paper, and that's it!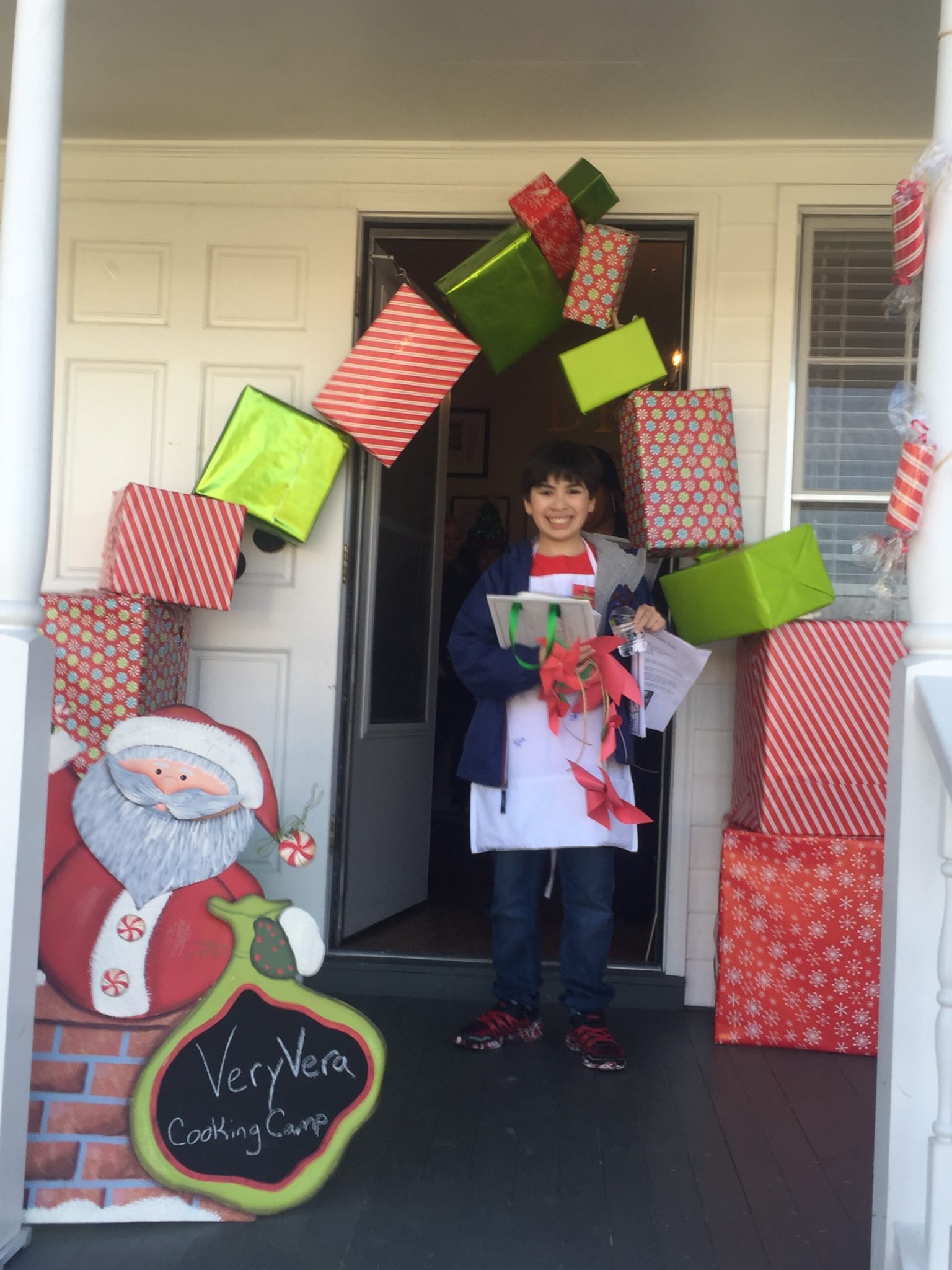 Thank you to all our campers for joining us this year! Keep an eye out for announcements about Saturday Camps in 2018. Merry Christmas!