VeryVera Camp hosted a Hershey's Recipe Contest this Summer, where ALL campers were invited to create their own recipe using the grab bag of Hershey's products that they received at camp. Our winner: ten-year-old Grady Riser, who attended the Augusta, GA camp in July, created this divine recipe: Inside-Out Reese's Cake. Trust us, it is a must-try!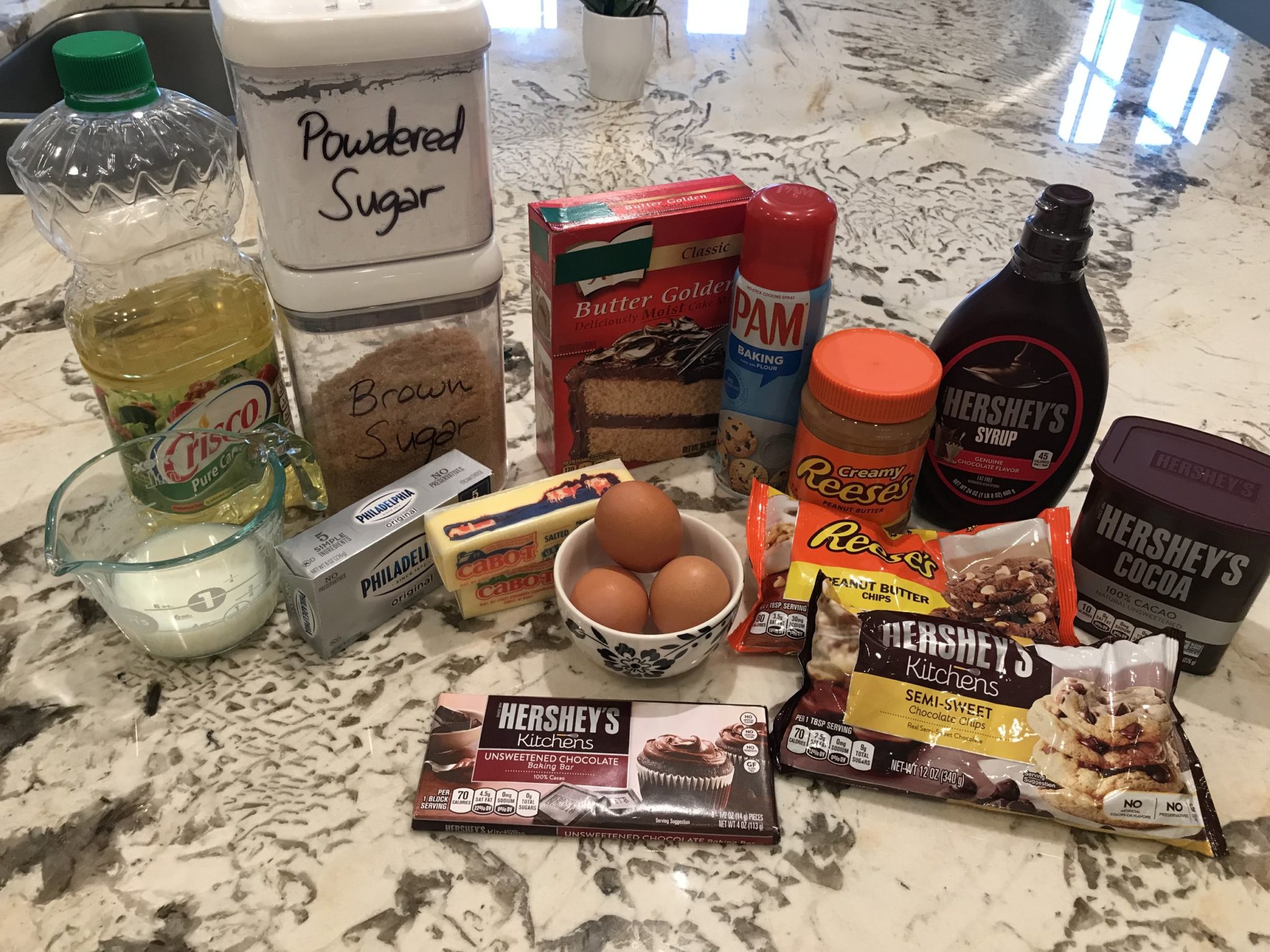 Cake Ingredients
1 butter-recipe cake mix
3 large eggs
1 stick unsalted butter, room temperature
4 tablespoons Hershey's cocoa powder (100% cacao)
4 tablespoons light brown sugar
1 oz Hersey's Kitchens Unsweetened Chocolate Baking Bar, finely chopped*
12 oz Hershey's semi-sweet chocolate chips*
Frosting Ingredients
1 cup Creamy Reese's Peanut Butter
6 oz cream cheese, room temperature
ó cup powdered sugar
2 tablespoons light brown sugar
Milk or heavy whipping cream (small amount – 1-2 tablespoons)
Garnish
Reese's Peanut Butter Chips
Hershey's Syrup (chocolate flavor)
Directions
Preheat the oven to 350 degrees. Combine eggs, cake mix, and butter. I like to beat the eggs first and then add in the cake mix and butter. Don't throw away your butter wrapper because we will use it later. Next, add Hershey's cocoa powder and brown sugar, beating well to combine (about 3-4 minutes on medium speed). Finally, add chopped Hershey's Kitchens unsweetened chocolate baking bar and Hershey's Kitchens semi-sweet chocolate chips, beating on low just until well combined.
Prepare your cake pan (I used a deep 9-inch round pan) by greasing it with the buttery side of your butter wrapper and then sifting and gently shaking some of the cocoa powder over it, getting the bottom and sides where you greased. Instead of these steps, you could use a floured non-stick cooking spray or butter/oil plus flour, but I'm planning not to frost the sides of my cake and didn't want anything non-chocolate changing its color.
Bake at 350 degrees for 65-70 minutes or until set.
While it is baking, you can work on your frosting. Beat together the peanut butter and the cream cheese. (I used the wire attachment on the mixer for this.) You can have the mixer running on a pretty high speed for the peanut butter and cream cheese, but you definitely want to slow it down when you start adding in the powdered sugar or you will have a tasty but messy white cloud all over you. Add in the brown sugar and keep mixing. Once those are combined, increase the speed and watch to make sure all is well combined. If the frosting seems too stiff or dry, you may want to add some cream or milk. I added about one tablespoon of heavy whipping cream to mine, but whether you do this will depend on personal preference.
Once you get the frosting how you want it, wrap the mixing bowl with plastic wrap and put it in the refrigerator while you wait for your cake to finish cooking.
Perfection!
Once the cake is done, remove it from the oven and allow it to cool completely or it will melt your frosting! Bring the frosting from the refrigerator a few minutes before you plan to start frosting so that it will be easier to work with. Give it a good stir and then spoon it onto the top of your cake. Spread it gently with the back of a big spoon or an offset spatula (for a more polished result). Garnish with Reese's Peanut Butter Chips and serve with Hershey's Syrup (chocolate flavor) and vanilla ice cream. Enjoy!
*This cake is really rich and chocolaty, which is how I like it, but if you want to reduce the richness, you can eliminate the unsweetened chocolate bar and cut the chocolate chip amount in half.