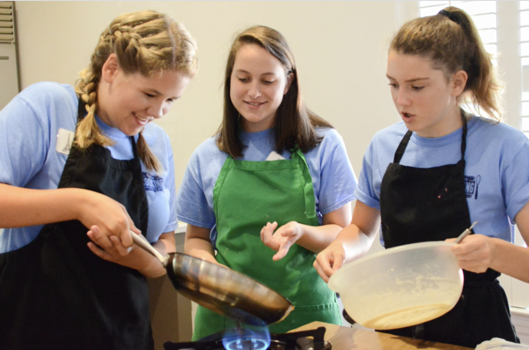 My name is Reece Whatley. I am a sophomore at Georgia Southern University majoring in Nursing. My journey with VeryVera began when I was 7 years old as a camper.   As a camper, I enjoyed learning kitchen skills, table etiquette, and creating napkin folds.  We learn so many wonderful skills at camp!  From using a knife properly to the importance of measuring ingredients correctly.  Of course we have to mention the delicious food!  At camp we have the opportunity to try new foods. Over the years I have taken the recipes home that we made at camp and those recipes are now a family favorite.  Of course my Mom loves it when I cook dinner!  Sometimes the campers are trying different foods for the first time.  My favorite camp memory is the wedding theme camp.  I especially liked going to the bridal store and looking at the beautiful dresses. 
Camp also helped me with speaking skills. I was a very shy child.  Every year at camp we have to introduce ourselves and on banquet day we introduce our guests.  This allowed me to become more comfortable with speaking in front of different people.   This skill has become very useful with my classes and now as the Education Director.   The counselors told us when I was a camper these skills will be very useful as we get older. They were correct.
I have had many roles throughout my time working with camp, starting out as a Junior counselor at the age of thirteen. A few years later I moved up to assistant and then to lead counselor. I also worked after school doing chores around the cottage and helping out with whatever was needed.  This year I have been given the privilege of being the Education Director.  During this time I have learned so many skills that I use in my everyday life, and as Mrs. Vera says "we are so far ahead of our peers". She is not kidding when she says that, as a VeryVera employee you learn many skills such as time management, leading by example, and just truly knowing  how to be a hard worker.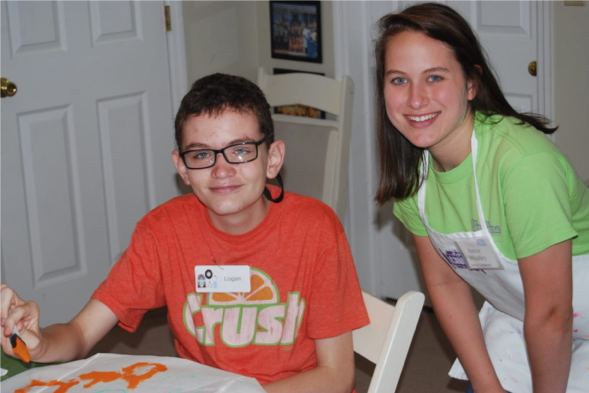 As the Education Director I have had  the opportunity to work on curriculum and use my experience as a camper to come up with new ideas on how to make the education room, newly named the umbrella room,  a fun learning environment. Some of the things I enjoy teaching the campers include creating tablescapes, setting the table and napkin folding.  I enjoy working with the campers every week.  I love seeing a camper who comes in quiet and nervous on Monday, but then confident and excited on Friday showing their guest what they have learned over the course of the week.  It is wonderful to see the returning campers year after year.  
This camp has been a part of my summers for 12 years. During this time I have learned many lessons that I will carry with me throughout my life.