Spooky Stuffed Peppers 
Prep Time: 35 minutes
Cook Time: 1 hour and 30 minutes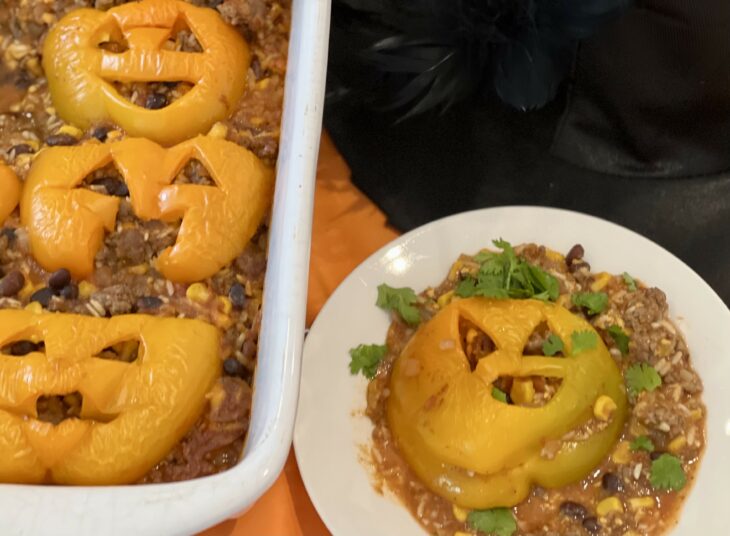 Yield: 8 servings
Ingredients:
4 orange bell peppers

1 pound lean ground beef

1 tablespoon olive oil

1 medium onion, diced

1 can corn, drained

1 can black beans, drained

1, 24 oz jar mild salsa

1 teaspoon cumin

1 teaspoon chili powder

1 teaspoon garlic powder

1 teaspoon onion powder

½ teaspoon salt

½ teaspoon oregano

½ teaspoon pepper

1 cup white rice, uncooked

½ cup water or broth

1 cup shredded cheese

Sour cream, topping (optional)

Cilantro, topping (optional) 
Instructions:
Spray a 9×13″ casserole dish with cooking spray and preheat oven to 350°F.

Cut the top off each bell pepper and remove stem and seeds, then cut each bell pepper in half lengthwise. Use cookie cutters, or a knife to cut a face out of the bell pepper halves. Set the bell peppers aside.

In a large skillet over medium high heat, saute the ground beef in the olive oil until cooked through. Add in the diced onion and continue cooking until the onion is translucent. 

Add in the drained corn, drained beans, salsa, seasonings, rice, and water. Stir to combine. Add in the cheese and stir again. 

Pour the mixture into the prepared pan. Top with the 6 bell pepper halves. Cover with foil and bake for 1 hour or until rice is cooked through. Serve with cilantro and sour cream if desired.