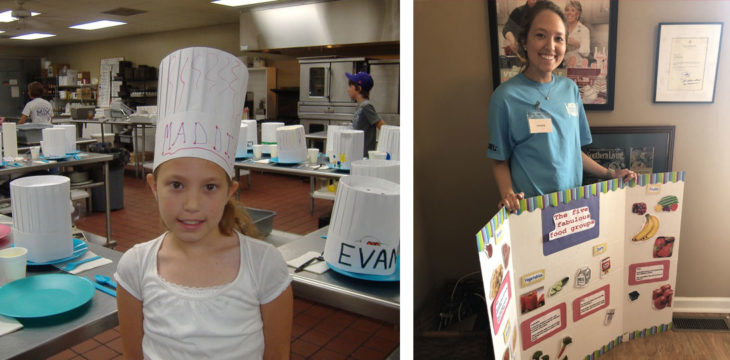 From dedicated camper, to counselor and now Director of Education and Development, my journey with VeryVera has come full circle. My name is Maddie Miller and I am a recent graduate from the University of Georgia. I graduated in December of 2021 with a Bachelor of Science Degree in Education, a major in Elementary Education. My dream of becoming an educator sparked early on when I was 8 years old. This was also the age I started my first year of cooking camp. Who would have thought that many of my future endeavors would come from experiences of my early childhood. As I reflect on those experiences, they are some of my fondest memories. My passion for teaching and cooking have stayed with me over the years, and led me to the career path I am on today. While experiences and having a passion are all important, the people who sparked these interests in me deserve all the praise and thanks for guiding me over the years.
Vera has been a mentor of mine for many years and I would not be the person I am today without her encouragement, and determination. VeryVera has been a key part of my life for the past 16 years and I am grateful for every opportunity along the way. I can remember my early days as a camper and all of the fond memories. One of my favorite memories of camp was learning table etiquette and how to write a thank you note. Vera would instruct these lessons and show her students just how valuable these skills are in life. A thank you to my parents for providing me with the ability to seize these opportunities should be recognized. Their continuous guidance and support have brought me to the place I am today. I am thankful for them and all they have provided to help me succeed.
My return to VeryVera has been the icing on the cake to the new year. I graduated with the intention of applying for a full time teaching position in the fall. Little did I know that the best opportunity to combine all of my passions was right around the corner! The position of Director of Education has been a career goal of mine since I began working for VeryVera at the age of 14. Fast forward 10 years and I am back where my journey began. This chapter is one I am thrilled to begin as a new college graduate. The opportunity to incorporate the lessons I have learned as a camper and now certified educator, provide me with the framework to create another successful year at VeryVera Cooking Camp. It gives me great pleasure to be back at the place that started my career. I have felt so much joy to be welcomed back to The Cottage, a place that truly feels like home. I am looking forward to growing and learning as part of the VeryVera team. A happy homecoming indeed!