What makes your heart happy? Team VeryVera's hearts are happiest when stepping into the kitchen to teach children how to cook and bake. A sold-out class of 24 students celebrated Valentine's Day early last weekend by discovering that cooking is good for the heart!
Our campers spent last Saturday showcasing their skills–turning simple ingredients into culinary works of art. Saturday's recipes were a hit! We lived our own Disney movie by making ratatouille, a deliciously savory French vegetable dish. We got into construction by building our own granola cups, then we filled them with yogurt and fruit. Finally: dessert! This time we tried our hand at heart-shaped jam cookies and scrumptious salted caramel brownies!
Once everything was in the oven, campers moved on to create keepsake photo frames that will hold their Camp memories forever. During lunch, the air was filled with "Mmmm" and "This is SOO good!" Campers left VeryVera's Saturday Camp with a full stomach and a few new favorite recipes in their repertoire.
Thank you for making our hearts happy and joining us at VeryVera's Happy Hearts Camp! Follow the rainbow straight to our Leprechaun Luncheon on March 4th!
Below is the recipe for Jam Shapes, the beautiful cookies with a window of jam that our campers made. Enjoy!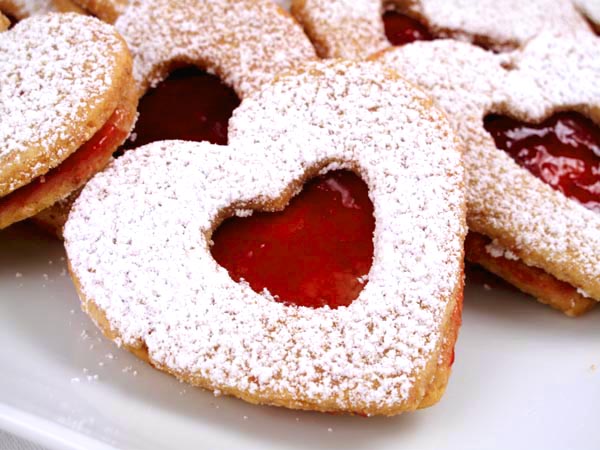 Jam Shapes
Ingredients
• 12 Tablespoons butter, softened
• 2/3 cup sugar
• 1 teaspoon pure vanilla extract
• 1 tsp finely grated lemon zest
• 1 egg, beaten
• 1 egg yolk
• 2 cups all-purpose flour, plus extra for rolling out
• 6 tbsp raspberry jam
• 2 tbsp confectioners' sugar, for dusting
Instructions
1. Preheat the oven to 325 degrees. Line 2 baking sheets with parchment paper. Process the butter, sugar, vanilla extract, and lemon zest in a food processor until smooth.
2. Add the egg, egg yolk, and flour to the food processor and process again, until the mixture resembles bread crumbs and is starting to come together in a dough.
3. Transfer the dough to a lightly floured surface and lightly knead until dough is smooth and uniform. Flatten into a circle, wrap it in plastic wrap, and chill for 30 minutes.
4. On a lightly floured surface, roll out the dough to ¼ in (3 mm) thick. Using a 2.5 inch (6 cm) cookie cutter, cut out as many cookies as you can.
5. Use a 1-1.5 inch (2-3 cm) cookie cutter to cut out the middle from half of cookies. Remove middles and discard or bake to make mini-cookies. Arrange on the baking sheet and chill in the refrigerator for 15 minutes.
6. Bake on the center rack of the oven for about 10-12 minutes, or until golden brown. Cool on the baking sheets for 1 minute, then transfer to a cooling rack.
7. When completely cool, spread the whole, uncut cookies with jam. Dust confectioners' sugar on the cookies with holes. Press one sugar-dusted cookie (with the cutout) onto each jam-covered one and serve.